Showuitslagen Glacee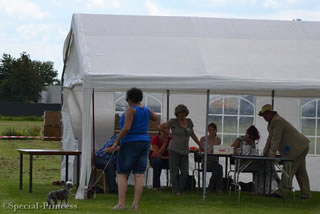 Glacee's showuitslagen

Plaats

Datum

Klasse

Keurmeester

Kwalificatie

KC Hoogeveen clubmatch

12 juli 2014

Jeugdklasse

Dhr. J.R. Douma

1.U
'Best of Breed' & 'Rasgroep 9 4e plaats'

Ijsselshow

04 okt 2014

Jeugdklasse

Mw. Heikkinen-Lehkonen (Fin)

4.G

Hanzeshow

05 okt 2014

Jeugdklasse

Mw. S Walsh (Ier)

4.ZG
Hanzeshow, 5 oktober 2014
11 months, nice shaped head, correct earset. Correct topline when relaxed. Good angulation behind, would like a little more angulation in front. Would like a deeper chest and better tail carriage. Needs more confidence. Skin in very good condition.
Na de voorgaande showdag was ik blij dat ondanks alle zenuwen we een 'Zeer Goed' kregen.
Ijsselshow, 4 oktober 2014
Small bitch still very immature. Needs more depth of brisket definitely more self-confidence. Muzzle is very short. Dark round eyes. Upright in shoulders and upper arm. Long in loins. Well angulated behind. Good skin and enough feathering.
Een 'Goed' en heel wat tegenslagen maakte dit een dag en rapportje om gauw te vergeten.
KC Hoogeveen clubmatch, 12 juli 2014
Net 9mnd. Mooi formaat. Fraai geheel. Correcte hoofd-lengte verhouding. Goed gevormd hoofd met prima staande oren en scharend gebit. Prima hals. Mooi lichaam, goede benen en typische voeten. Mooie huid en prima manenpartij. Loopt netjes door de ring.
Tijdens haar allereerste show kreeg ze een 'Uitmuntend' en werd ze 4e in de erering!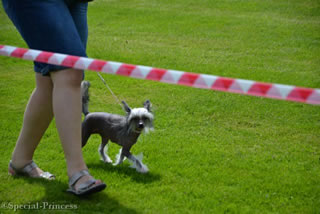 Klik hier voor een uitleg over het showen van je hond...